Now with summer comes sweat but the seasons aren't the only culprits in this category. The wave of embracing your natural hair has gone far beyond the fashion and corporate worlds; it has infiltrated the world of fitness and professional athleticism. Now, more than ever before, natural hair has been celebrated in the world of professional athletes all over the world. However, with embracing your natural hair, the ever evolving world of natural hair maintenance becomes just a little more elaborate when we are factoring in sweat, movement and styling. Now this does not only pertain to professional athletes, we're also talking about the everyday NaturAllista that takes their fitness seriously.  
Helpful Styling and Scalp Maintenance
Now as anyone with natural hair will tell you, the condition of your scalp is the foundation to any hair goal you may want to achieve. A healthy scalp produces healthy hair no matter the products or the techniques. While product and technique highly INFLUENCE the health of your scalp, they do not determine it. Let's just say you've got your scalp health down pat. How about we throw in a bit of sweat. Is your routine helping the sweat on your head lubricate your roots or is your regimen allowing sweat to create build up? 
When you work out, your head is going to sweat, there's no way around it. The main idea for preserving natural hair while being active is:
Preserving curls and keeping them from getting sweaty

Getting access to your scalp in order to remove any build up
So the best way to check off both of these points is to style your hair in the most efficient way you can. Many active people with natural hair go for protective styling (especially if your choice of activity includes a body of water). Protective styling, when installed correctly, does exactly what it says it will. It protects the hair and in some cases, protects the scalp as well. 
Styles like braids or twists allow you to get your hair away from your face (which eliminates extra sweat contact) and give you the chance to access your scalp for a quick cleansing WITHOUT needing to complete an entire wash day routine. In conjunction with these style choices, you want to choose products that can stand up to sweat and constant movement without faltering. That's where our Hydrating AvoKiwi Twisting Paste comes to your rescue. Our twisting paste is wax free (bye bye build up), jam packed with nourishment (heeeyyy kiwi extract) and has a strong enough hold that can take on any challenge sweat may bring. 
Now let's talk about our scalp. The main way we cleanse our scalp is to shampoo away all the dirt and grime that comes along with our day to day activities and styling. However, shampooing frequently causes brittle hair, breakage and sometimes can lead to an irritated scalp. So you want to avoid overwashing your hair at all costs. So how do you combat a dirty scalp while skipping a full wash day? Well there are many dry shampoos on the market that can help you with this. You have to be careful in how you choose though. Dry shampoos may have the tendency to build up on the hair if not distributed properly and this may be the case with kinky, curly or coily hair. 
Pro Tip: You can also opt to co-wash your hair as well! A cowash is a conditioning product that has a small amount of cleansing agents. While co-washing can be helpful, be mindful that you'll most likely have to style your hair again midweek, which you may not have all the time for. 
One hack that may save the natural athlete's life is a simple mixture of water and witch hazel. Hazel is an astringent that can help break down unnecessary build up and dirt. Simply put about ⅔ water to ⅓ witch hazel in a spray bottle and spray either directly on the scalp or on a cotton ball. Then use the cotton ball to dab your scalp to rid you or any extra sweat, hair product or dirt. This will leave the scalp clean and fresh. You can then go over the scalp area with a lightweight oil such as our Hydrating AvoKiwi Blend. This will help lubricate the scalp so it does not dry out from the witch hazel mixture.  
Another alternative to witch hazel would be apple cider vinegar. This is another natural ingredient that is a great way to cleanse your scalp without having to go under running water and spend too much time drying your hair. With the same method and witch hazel, dab diluted ACV to your scalp to remove any build up you may have from a great active session. 
Now if you prefer not to go the protective style of your hair, you can always go for the good ol' wash and go. Now, many athletes and active naturals opt for the wash and go because of the versatility of the style. It is a great option for someone who loves to exercise, someone who lives an active lifestyle but also loves to look good after their sessions. A great wash and go can be pulled into a pineapple. A simple high puff updo or "pineapple"  is a great way to get your hair out of your face and is versatile enough to get through a morning yoga session, hard work day and then slide straight into dinner. The best part about a pineapple is it will continue to look its best, even after day 3 or 4. You can also pull a wash and go into two cute space buns so your hair can stay out of your face. The only difference is there is a little more that has to go into maintaining the style while you're active. 
When you are setting up your wash and go for the week, you want something that is going to keep your curl pattern while also keeping the hair protected and moisturized. The last layer of product in your wash and go needs to be able to stand excessive movement and moisture in the air (hello frizz). One product we suggest would be our Curl Defining Flaxseed Gel, especially the Extreme Hold. While the flaxseed gel does wonders in holding your highly defined curls in place, the yogurt protein in this formula gives your hair the structure that it needs to stay in shape. Add a sweatband to your look to protect your edges and you are all set for the most rigorous of workouts! 
When The Time Comes
Now, after a long week of getting your body and mind right in the gym, it's time to unwind and really get to your hair the way you have been longing to. In this state it is all about recovery. Your hair has been either manipulated all week to stay out your face or it's been tied up into some braids or twists. So your hair is going to need a little TLC. First things first is to give your hair and scalp a real deep, proper cleansing. Our Hydrating Cleansing Shampoo is a great option for the active natural hair enthusiast. This shampoo offers a deep cleanse that also reintroduces moisture to the scalp all at once.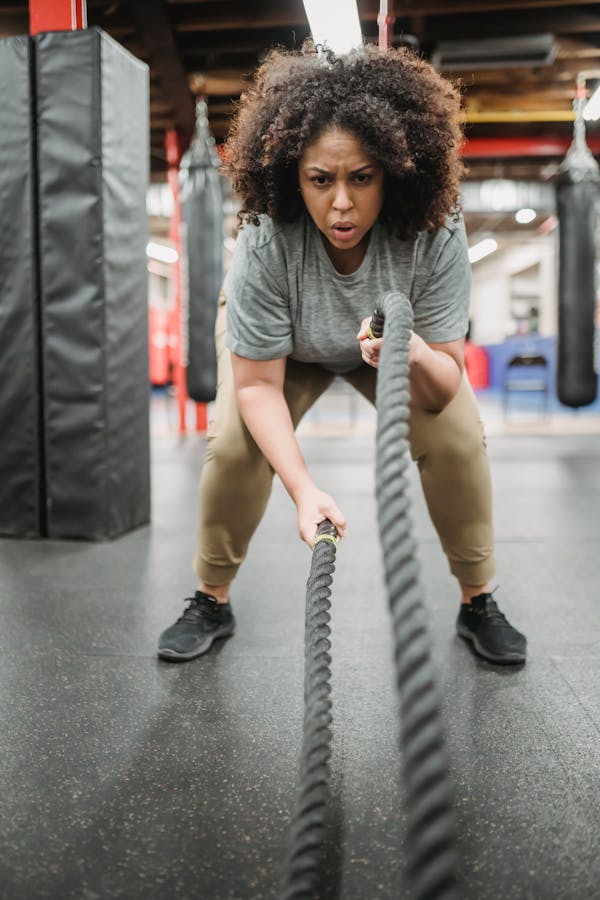 Besides the cleansing, which is super important, it is equally important to restore the hair and scalp with the nourishment it needs in order to go through another week of activity and everyday life. Deep conditioning your hair is the best way you can ensure that it is replenished with necessary proteins, vitamins and oils. Once the hair is replenished it will literally do anything you want it to. Along with replenishment, your hair follicles also need a moment to recover as well. When you exercise, your scalp is actually sweating, meaning your hair follicles are also secreting sebum and sweat. You have to give them a moment to "breathe". Deep conditioning is the perfect time to do this. 
NaturAll really does get gold medals in this deep conditioning game, so it really is up to you and your hair's state on what you choose but we have some suggestions. Now if you are looking to give your hair the ultimate repairing treatment, you should opt for the Restoring Fresh Frozé Treatment Deep Conditioner with Sea Moss and Aloe Jelly. The Irish Sea Moss will promote rebuilding of the hair structure while the Aloe Jelly smoothes and conditions your hair shaft. 
However, you may feel that your hair may be a bit sensitive to protein but it still needs the strength to go through another week, try our Strengthening Fresh Frozé Treatment Deep Conditioner with Jamaican Black Castor Oil, Moringa- Monoi and Carrot. Jamaican Black Castor Oil is full of antioxidants that help balance the scalp. They also promote blood circulation which gives life to your scalp and hair follicles. Carrot is full of vitamins that the hair can use for nourishment. Moringa Monoi is coconut oil infused with the Moringa flower which helps aid in  softer, more manageable hair strands. 
No Matter What, Get Up!
Sometimes the hard truth for the natural hair wearer is that working out while simultaneously caring for your natural hair is virtually impossible. A lot of the time people choose one or the other without taking into consideration that you can most definitely do both! Even better, with all of the knowledge circling around our community, finding different ideas and hacks is no longer a hassle. Whether you are a professional athlete, lover of a brisk walk around the park or a personal trainer, there is now no reason why you can't keep up with your natural tresses while keeping your mind and body fit! Just remember that you really are in control of what you can and cannot do so do not set crazy limits for yourself. Being active is a very important part of life so why not look fly when you do it?